The All England Lawn Tennis and Croquet Club, also known as the All England Club, based at Church Road, Wimbledon London, England, is a private members club. It is best known as the venue for the Wimbledon Championships, the only Grand Slam tennis event still held on grass. Initially an amateur event that occupied club members and their friends for a few days each summer, the championships have become far more prominent than the club itself. However, it still operates as a members' tennis club.
The club has 375 full members, about 100 temporary playing members, and a number of honorary members, including past Wimbledon singles champions and people who have rendered distinguished service to the game. 
The Championships now attracts attendance of around 450,000 people.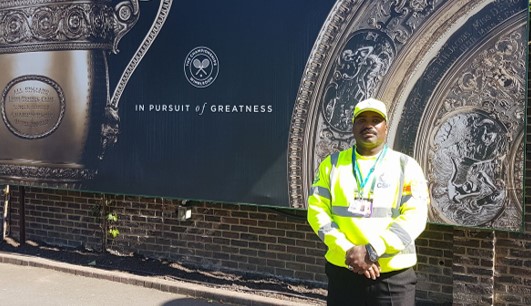 Service summary
CSP provide traffic management services utilising marshals, SGL qualified and CSAS accredited staff to support the movement of traffic in Church Road and the crossings to Southfields Station throughout the Championships,support the management of traffic during the build up and breakdown periods and provide car park cover throughout the year to the AELTC, and since 2019 have also been providing security services including SIA Door Supervisory staff to support a successful Championship as well as HVM (Hostile Vehicle Mitigation) system provision.