Epsom Downs Racecourse
Epsom Downs is a Grade 1 racecourse in Epsom, Surrey, which is used for thoroughbred horse racing. The "Downs" referred to in the racecourse name is part of the North Downs.
The racecourse has a crowd capacity of 130,000 when taking into account visitors watching from Epsom Downs, an area freely available to the public. It is best known for hosting the Derby Stakes, which has come to be widely referred to as "The Derby" (note: 'Epsom' is not part of the race title), the UK's premier thoroughbred horse race for three-year-old colts and fillies, over a mile and a half (2,400m). The racecourse also hosts the Oaks Stakes (widely referred to as "The Oaks"), for three-year-old fillies, and the Coronation Cup for horses aged four years and upwards. All three races are Group 1 and run over the same course and distance.
The racecourse is owned by The Jockey Club and has enjoyed a long association with the Royal Family, with the Queen attending The Derby most years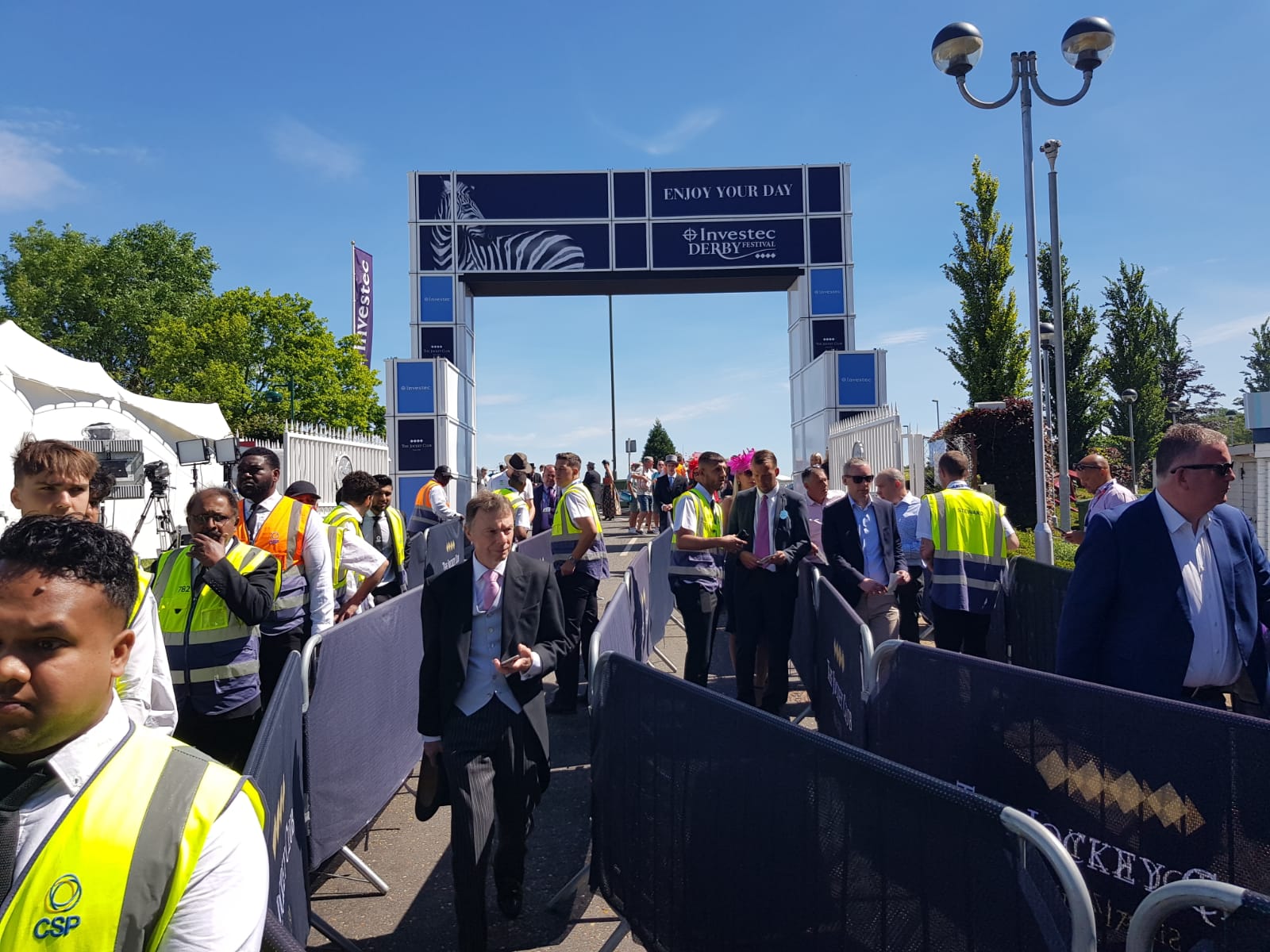 Service summary
We have operated at Epsom Downs Racecourse since 1996 and our service provision has evolved considerably since then.
We produce the official traffic management plan for The Derby – the country's biggest sporting day, which has up to 150K visitors and parking for up to 10,000 vehicles a day. We chair Traffic Meetings; produce Traffic Regulation Orders; provide temporary traffic lights, trakway, CSAS-accredited, Chapter 8, and Sector Scheme 12D trained staff on external road points (replacing Surrey Police Constabulary), turnstile operators, stewards and SIA security officers; and manage the cash & audit sales for 28 car parks and ticket collection points. We also supply barrier teams, customer care teams, Health & Safety zone managers, traffic controllers for "Silver Control" (Police/Emergency Services, Epsom Downs Racecourse & Local Authority), The Hill "Bronze Control" traffic controller, and work with the Royal Protection team.
In addition to the above, we also manage all soft services at Epsom Downs Racecourse throughout the year.