The Ryder Cup 2018, Paris
The Ryder Cup – named after the English businessman, Samuel Ryder, who founded the competition – is one of the world's greatest sporting events. It is a men's golf competition, with one team representing Europe and the other team representing the United States. The competition is contested every two years, with the venue alternating between courses in the USA and Europe.
The event is jointly administered by the PGA of America and Ryder Cup Europe – the latter a joint venture of the PGA European Tour (60%), the PGA of Great Britain and Ireland (20%), and the PGAs of Europe (20%).
In 2018, The Ryder Cup was held at Le Golf International in Paris.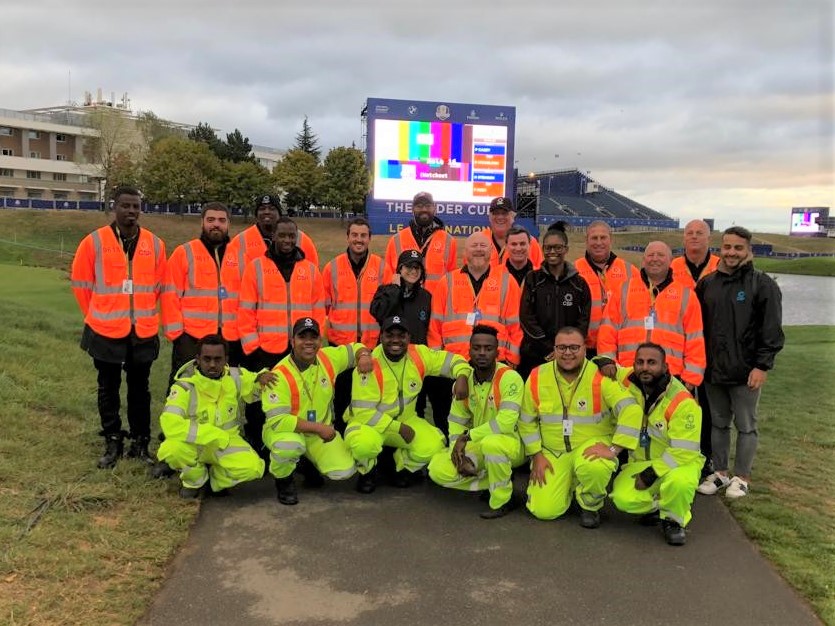 Service summary
Prior to The Ryder Cup in 2018, we had also provided services to the 2010 and 2014 tournaments, held at Celtic Manor and Gleneagles respectively.
Our involvement in 2018 commenced 18 months prior to the event, as an integral part of the project planning team, working with all stakeholders to develop the transport plan, which was continually developed throughout the planning phase.
In order to uphold our corporate environmental strategy and support the local French economy, we took only key functions from our UK workforce to France and partnered with three local companies to deliver the 280 staff required each day to deliver the transport plan, which consisted of:
• 9 onsite car parks
• 4 park and ride sites
• 2 bus terminals
• 2 train stations
• Last mile checkpoint operations (working very closely with the National Police and Gendarmerie National)
French labour laws are very strict in terms of individual health, conditions and working time regulations. A detailed level of planning and implementation had to be maintained in order to deliver the service levels required to the agreed budget, whilst still ensuring we remained fully compliant.
One week prior to the event, we were asked to support the cleaning operation, which included litter picking and refuse clearance. We were able to add this to our service provision due to the excellent local relationships we had developed during the planning stages.
The Ryder Cup was a huge success, with record numbers of visitors attending Le Golf National in France. Edward Kitson, Director of Ryder Cup Europe, quoted: "Team Europe were the winners on the golf course, but Team CSP were the real winners in France."