Hampton Court Palace Flower Show
The First Hampton Court Palace Flower Show (HCPFS) was held in 1993, and it has gone on to become the world's largest flower show.
The Show is held in early July, and run by the  Royal Hrticultural Society (RHS). The show features show gardens, floral marquees and pavilions, talks and demonstrations. Erected on the north and south sides of the Long Water in Hampton Court Park, it is the second major national show after the Chelsea Flower Show but has a different character, focusing more on environmental issues, growing your own food and vegetables and cookery, while also offering opportunities to buy gardening accessories, plants and flowers.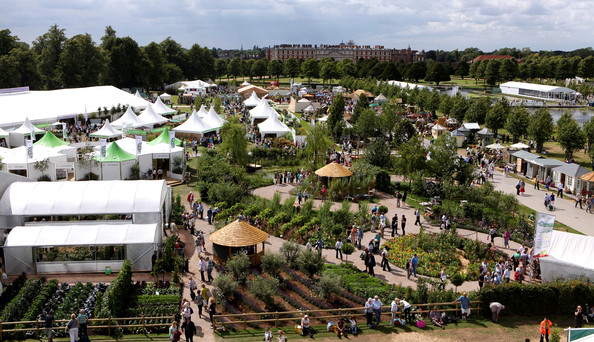 Service summary
CSP have been awarded with the external traffic management contract for the show since 2009.  With over 120,000 visitors over the five days of the Flower Show, we need to ensure that the visitors arrive and depart from the venue in a safely manner, whilst minimising the disruption to the local area.
CSP starts planning the operation well in advance of the HCPFS by attending Safety Advisor group meetings with all the relevant stakeholders.
The predominant role of the 18 CSAS personnel deployed during the ingress phase is to manage the pedestrian crossing, as there is little need to operate the key roundabout because the arrival is staggered.  
During the egress phase we would focus on vehicle management, as most visitors leave at the same time. On top of that, the exit hours are concurrent with the rush hour traffic, making it compulsory to stop the thoroughfare traffic in order to allow the vehicles exiting the venue to join the motorway. The transport operation for the event is coordinated centrally from the event control room, with CSP, the internal traffic management provider and the local authorities feeding information up and disseminating instructions down through their teams. Information is shared between operational management leads, with contact made as required throughout the day.
Hampton Court Palace also hosts some of the biggest horticulture events in the UK. For other events happening on site, we provide an innovative car park online booking system. This offers the event organisers a better understanding of the attendance figures and a better cash-flow because the pre-sales are generating revenue prior to the event. From a traffic point of view, the egress phase would be quicker as the congestion due to on the day sales would be reduced.
Imagery: www.zimbio.com